TEC-Technology Enabled Clothing®
What is TEC® and the Personal Area Network?
TEC-Technology Enabled Clothing® was formed in 2000 to address the needs of consumers' digital lifestyles. The TEC® patent (US Patent No. RE40613) covers the incorporation of wires into clothing and our Personal Area Network (PAN) system.

The PAN is a network of hidden conduits throughout our garments, which are designed for routing charging cables from pocket to pocket, or headphones up to the collar for easy access. This ensures you never have to deal with tangled wires again and, paired with an external battery, will keep even your most power-hungry devices at full charge.

When you see the TEC® label on clothing, you will know that the garment is prepared for the 21st century. It will accommodate your personal electronics and other daily essentials without making you look bulky or feel uncomfortable!

SCOTTeVEST, Inc. is the exclusive licensor of TEC-Technology Enabled Clothing®.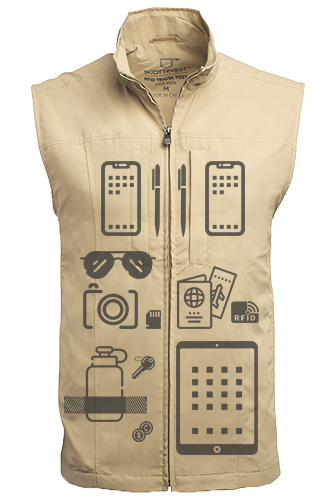 must haves
Our bestsellers